Posts Tagged 'HTML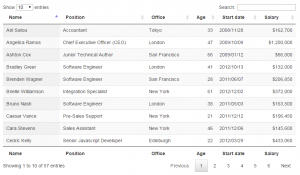 The jQuery plugin Datatable is a plugin that will allow you to have many features on a HTML table. This plugin is so simple to use, but if you need more complex thing you can also achieve them since the plugin is full of features that can be customize, it also includes an event listener for the action on the table.
Among the features of the Datatable plugin you can have:
Pagination, instant search and multi-column ordering
Supports almost any data source:
DOM, Javascript, Ajax and server-side processing
Easily theme-able: DataTables, jQuery UI, Bootstrap, Foundation
Wide variety of extensions inc. Editor, TableTools, FixedColumns and more
Extensive options and a beautiful, expressive API
Fully internationalisable
Professional quality: backed by a suite of 2900+ unit tests
Free open source software (MIT license)! Commercial support available.
Scrolling options for table viewport
Smart handling of column widths
State saving
Hidden columns
Share the Post
Esta es la continuación de  la serie de tutoriales sobre PHP y base de datos con MySQL.
En esta ocación vamos a trabajar en la plantilla que obtuvimos en Crear Tabla HTML con ID y Mostrar Información (PHP,MySQL)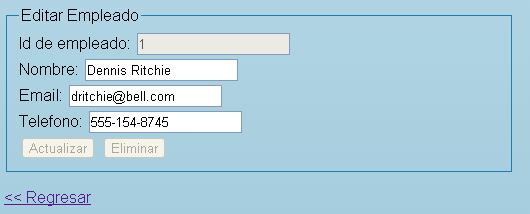 A esta plantilla le vamos a aplicar un poco de estilo para que este mas ordenana. El código de la nueva tabla se encuentra en el archivo completo del código fuente de este post, que lo puedes encontrar mas abajo.
Para poder actualizar nuestro registro debemos obtener los datos de la forma y formar nuestro query. Si ya seguiste el tutorial Método PDO::prepare Obtener Resultados con Parametros ya tienes una idea de que trata el enviar información a un query de una manera segura. Para este tutorial no hay mucha diferencia en cuanto al código, sin embargo, se implementa un método para verificar que se haya hecho la inserción de una manera correcta.
1.- El primer paso que tenemos que hacer es verificar que se haya seleccionado el boton de "Actualizar", como esta dentro del post de la forma vamos a buscar que exista este boton en el arreglo $_POST:
| | |
| --- | --- |
| | if (array_key_exists('update', $_POST)) { |