About Reedyseth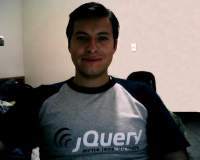 My name is Israel Barragán AKA Reedyseth. I am a Computer Science Engineer and I really love the Web Development.
I have worked in different companies as a Web Developer as well as a Developer for Desktop Applications. I develop different kinds of applications using the latest technologies in the market specially jQuery, PHP, Boostrap, Databases, etc.
Also I like to develop stuff for WordPress. Among all the stuff that I develop I also maintain a plugin named Subscribe To Comments Reloaded you can take a look here http://wordpress.org/plugins/subscribe-to-comments-reloaded/
I am an Open Source user and I believe that sharing code is so important because your code can be improved and if your code improve you improve. So I have my GitHub repository where I upload code, take a look: https://github.com/Reedyseth
I love to Develop, E-book reading and Real Books ( Yes real, nowadays we don't do that much) mostly about Programming Stuffs. I love to eat, to eat is a pleasure. During My free time I play Starcraft 2.
SOCIALIZE
My CodeSchool Badges Achived(Now I use Envato Tuts+) :
You can go ahead and ask me stuff down here:
One Comment